Morgan St James
Antique French Drapes & Textiles & Collectables
EUROPEAN EXQUISITE ANTIQUE TEXTILES
Home | Site Map Email Morganstj2@aol.com

You are now on Page Textiles Page B
PAGE 1. PAGE A PAGE B PAGE 2 PAGE 3 PAGE 4 PAGE 5 PAGE 6 PAGE 7 PAGE 8 PAGE 9 PAGE 10
MM60Toile4pcCupids. 4 Panels Antique French Toile Panels. Gorgeous, having darling cupids. dolphins and gondolas, water fountains and small dogs plus many figures, making these fantastic in appearance surrounding each panel / curtain. All of these are so Beautiful having lining on backs. They have straight tops with no hem. There is enough here to have a room filled with French Antique Toile making your room have an appearance of a rich classic feeling. I notice a small snag or small soil however this is minor compared to the beauty of these and having so much. The theme on this set is amazing having so much to view and each is exciting in the viewing as well. One panel has open seams on both sides and needs minor stitching which is easy and fast.. please see my photos--very minor but wanted to mention.
Panel 1: 9'6" Tall by 29" wide, Panel 2: 9'6" Tall by 29" wide,
Panel 3: 9'6" Tall by 29" wide, Panel 4: 9'6" Tall by 29" wide,
MM61,3pcRamsTrellisToile. Gorgeous Antique French Toile Panles / Curtains/ Drapes having wonderful motifs of Rams with dogs and Trellis's, Peacocks and each having so much to view while they hang with class on your window or windows. These are clean and have no lining as shown.
The 1st Panel having 3 narrow panels sewn together as shown making it wider and with no hem and measures: 9 feet 10" tall by 7 ft 10 inches wide. Drape 2 consists of 2 panels sewn together to make wider having a minute hem and small hole at top and measures: 9 ft 5.5" tall by 5 ft 4 inches wide... Next is Drapes 3: which consists of 3 narrow panels sewn together to make a wider drape and has a hem of 1 inch and measures: 8ft 1 inch wide by 9 ft 7.5 inches Tall.
MM62ToileRibbonTrim. Gorgeous Antique French Toile Drapes / Panels / Curtains having beautiful ribbon trim as shown and no hem. The motifs are of mother with children and oxen and sheeps, house and hens. These consist of 2 lovely panels having lining on the backsides which are soiled/spotted as shown in many photos. The one panel having a stain on the edge however remain in lovely condition other then the lining being soiled as shown. The feel is a crispy feeling to ones hands and they have a slight musty small but could be washed or left outside to remove the musty smell. They are lined in a white colour having the uppers with a minor pinch pleating as shown. The added French antique ribbon used for the trimming on these truly gives them a classic appearance to enhance any window and room.
Panel 1: 8 ft 9 inches tall ... The top is 28" wide and base with ribbon is 32.5" wide... Panel 2: 8 ft 9 inches tall ... The top is 28" wide and base with ribbon is 32.5" wide..
MM63AgretableLeconToile. Wonderful and unique motifs Antique French Toile Panels / curtains/ drapes having a lovely motifs of two small boys having fun fishing along with motifs of ducks and lion and writing which says " Agreable Lecon." Two large panels and lined on backside which are soiled on the lining. .. Some soiling on the front side as well.... Please also note these appear to be to different colours slightly perhaps due to storage or whatever I am not sure. The tops are pinch pleated in one panel and the 2nd panel has no pleats at upper. They are both different colours on the back and also on the front sides..
.The 1st panel is: 52" wide at top by 52" wide at base and 10'8" Tall which is tall for any window with lots to puddle down on the floor if you prefer this look... The 2nd Panel is: 37.5" Wide at top by 52" wide at base and again 10 feet 8 inches Tall....
MM64MdinCarcassonnew/balltrimmings: Beautiful French Antique Toile Panels / drapes / curtains having wonderful balls for the trimmings and filled with motifs in a working scene. Everyone seems to be working in this theme and there is so much to view in these wonderful French panels. They are crispy feeling and clean however soiling on the front of one about 2 by 2 in size and then more here and there. . The second panel has a small soil at base at the bottom.. The workers motifs are wonderful shown as black smith, a French girl selling Fleurs, Shoe polishing, Water boy etc. They have the original label which says Made in Carcassone as shown. (Carcassone is in France which is a wonderful place to see) There is a piece added to the base of each panel which was a wonderful idea someone had as it brought out the colour shade more in these.. please see photos. Hand stitching on some as well.
Panel 1 is: 25" on top by 4 ft wide at base and 12 Feet Tall which is just so wonderful for puddling onto ones floor or making a large puff before adding your tie back.
Panel 2: 12 Feet 2" Tall by 25" at top and 4 feet Wide at base.
#MM52TexB/BurntOrgLeaves/ Stunning and rich in Colour Antique French Panels / Drapes. These are truly stunning in addition to the gorgeous colour of a deeper Salmon having beige motifs surroundings. The header appears to be hand stitched and these were made with quality. They are lined at the backside & more information regarding each Panel and the condition and size of each is below next to the size of each Panel. Each is rich in appearance as shown in photos and my photos are always part of my description.. They are a gorgeous feel and made of Silk and very tasteful and classy in appearance.
Panel 1. 10 ft 10" tall & top is 34" wide and base 48" wide... The lining is open on one side and all ball trimmings seem to present with the exception of 1 ball missing. The header is looks to be hand stiched.
Panel 2. 10'3" tall & 34" at top and 48" wide at base... No ball trimmings down the side as shown in photo... All the ball trimmings on the Base are present..... A little stitching loose where the ball trimmings are which is minor...and the Back lining is lose from the front on the one side.....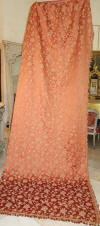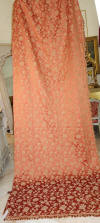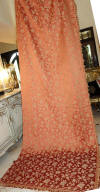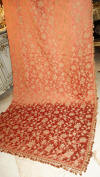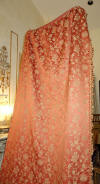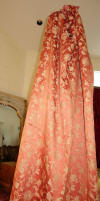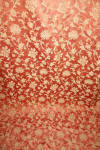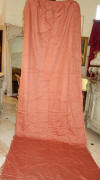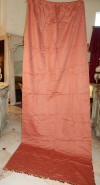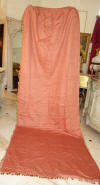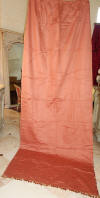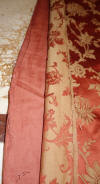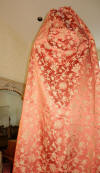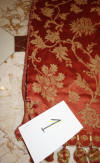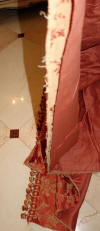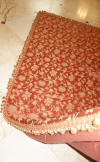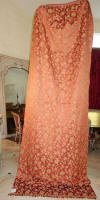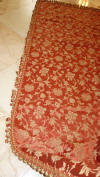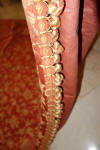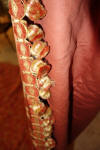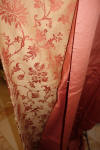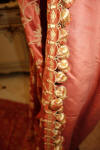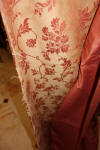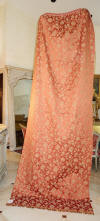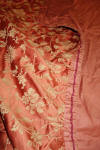 Textiles/Raspberry/ Gorgeous Set of Antique French Silk Brocade Drapes with valance. Rich gold long Metallic Fringe on the valance as shown... The fabric is thicker having a rich appearance and fading lines due to sun are done evenly as shown... The fading lines are very even as shown.. There is also Sun fading as the bottom center . There are minor holes--small holes approx. 3 of them. In addition, the fabric is thick as if the threads used in the making were very thick -- almost like a metal.... Also, this is 2 panels sewn together to make it this wide. Please keep in mind the sun fading appears to be even as shown..

Measures: The matching narrow valance: 13.2" long .... and is 8" tall with gold trim and 5" tall without the Gold Fringe.

The wide Panel: This is actually 2 panels and someone sewed them together to make them this wide. Its 7'6" Tall and the its 8'4" wide at base and 5'3.5" wide at the header.. Not adjustable and has a 2" hem...

Price: 650.
PAG E 1. PAGE A PAGE B PAGE 2 PAGE 3 PAGE 4 PAGE 5 PAGE 6 PAGE 7 PAGE 8 PAGE 9 PAGE 10