Morgan St James
Antique French Drapes & Textiles & Collectables
EUROPEAN EXQUISITE ANTIQUE TEXTILES
Home | Site Map Email Morganstj2@aol.com


International shipping available....
Antique French Clothing directly from France and now in the USA for easy shipping.
Exquisite French Antique Lace Childs Dress... or can be used for your Antique Doll. This is very very high quality and Exquisite in Quality. Circa 1880 and the finest lace with much consuming time in the making. I added large photos for your viewing of all the exquisite details in addition to the designing of the base with all the workmanship done in peaks as shown and in addition to the collar peaks as well. Nothing compares to the workmanship and lasting Elegance as shown here in this French Antique Childs Lace Dress. This was well taken care of and remains just Gorgeous for your little girl or perhaps one of your favorite Antique dolls as many now use these antique dresses for such. This also came from a very affluent French family as well as many of my other ones listed.
Measurements..
#SYPKDRPG.C. Exquisite Museum Quality Childs Antique Fine Silk & Lace Dress. This came from a very affluent French family and the quality is the finest. The colour of the finest soft silk in precious delicate pink and accented with the finest French antique lace as shown and remains in wonderful condition for its age. Circa 1880 and truly made for a little princess. You can also use this beauty for one of your favorite Antique dolls or have this framed and placed on one of your walls for a Exquisite Appearance and to be admired by all who enter your home...
Measurements to follow:
#FSYPG.Clothing. French Fine --Exquisite quality in this Antique French Silk skirt and top / matching jacket. Stunning colors of golden silk background. The upper and lower both having gorgeous lace adorning the lower skirt as well as jacket sleeves and surrounding areas as shown. Circa late 1880's having lovely hand lace surrounding the jacket back tails as shown. The colour is a rich gold fine silk having deeper bronze strips. The jacket having beautiful medium size covered buttons and each is their with non missing as well as the tails at back having an addition covered buttons. The sleeves are flared at the base having lace surrounding. This is gorgeous to display in your room for a decorative piece and each day enjoy the beauty of the quality back then. Or, one can make a shadow box to display it on their wall.
The Jacket does have underarm stains as shown in addition to approx. a two inch tear under the one arm. Some lace having stitches off however can be sewn back on easy. Their is also a piece of lace shown which goes on the outfit and easy to sew as well. The jacket has stiff like fabric on the interior for supporting as well as the skirt on the underneath of it.
Due to age it does have very minor openings surroundings... some I showed in photos however their are more which are small and surrounding both jacket and skirt. The skirt also due to age having deeper marking as shown in my photos.. similar to wide long deeper color markings going upward and downward in several places. Its for display as it runs small as everything did back then however it would make a quality rich display for any wall or mannequin to display in your room. The size I took with my measuring tape and took photos for your viewing. I truly hope someone who is a collector of such will treasure it and enjoy its quality forever.
Measures: 42" Long by 53" at widest at base area
AntiqueFrenchDress/ Gorgeous Antique French Dress circa late 1800's. This is outstanding in the making and quality however being of age it does have flaws such as under the arm openings.. as shown.. small holes in lace, tattered in area where lower skirt part meets closing and on pink/mauve bodice along with others however its still remains in lovely condition... these can be repaired. The pinkish mauve upper bodice is weak in the fabric and tears easily as its fine silk when made. The lower part of the dress is silk.
Its made beautiful and with quality however it needs work if one were to use it... If one were to display it-- this would be charming with a rich appearance to any room or perhaps have it mounted inside a shadow box for a fine display on your wall--you would certainly have a valued treasure forever with many admirers. A gorgeous outstanding piece from the past and a perfect wall display if used inside a display case shadow box on one of your walls or perhaps behind your bed as a bed head frame... Please see all my photos for close up views and feel free to write me for any other questions. Great also for projects such as dolls or doll houses to use on walls or dress up your antique dolls.
Measures: 51" Long at front and 70.5" Long at back train area by 15" Bust area and 10" Waist area lying down. SOLD
H
French antique Soft silk yet sturdy child's dress. Beautiful condition for its age. White color and can be worn with anything. Delicate in appearance and classy for a young girl.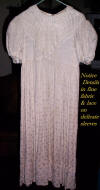 5. Truly quality in this hand made couched French handbag purse. Hand stitched and circa around 1880 having center motif of turquoise round stone then surrounded by hand stitched gold threads on cream wool fabric. Interior having gorgeous color of pink silk lining. Truly something to show off during your evening social events. A rare treasure hard to find. This would also be wonderful if one were to frame it and add to your walls.. or perhaps frame it and add to your favorite display tables.. The hand made workmanship is wonderful to admire. Price: 375.00