Antique French Drapes & Textiles & Collectables
EUROPEAN EXQUISITE ANTIQUE TEXTILES
LAYAWAY - PAYMENT PLAN AVAILABLE

International shipping available....
Antique French Clothing with some being vintage.
Exquisite French Antique Lace Childs Dress... or can be used for a Doll. This is very very high quality and Exquisite in Quality. Circa 1880 and the finest lace with much consuming time in the hand making. I added huge photos for your viewing of all the exquisite details in addition to the designing of the base with all the workmanship done in the peaks as shown and in addition to the collar peaks as well. Nothing compares to the workmanship and lasting Elegance as shown here in this French Antique Childs Lace Dress. This was well taken care of and remains just so Gorgeous for your little girl or perhaps one of your favorite dolls as many now use these antique dresses for such. This also came from a very affluent French family as well as many of my other ones listed.
Measurements..
#SYPKDRPG.C. Exquisite Museum Quality Childs Antique Fine Silk & Lace Dress. This came from a very affluent French family and the quality is the finest. The colour of the finest soft silk in precious delicate pink and accented with the finest French antique lace as shown and remains in wonderful condition for its age. Circa 1880 and truly made for a little princess. You can also use this beauty for one of your favorite Antique dolls or have this framed and placed on one of your walls for a Exquisite Appearance and to be admired by all who enter your home...
Measurements to follow:
#FSYPG.Clothing. French Fine --Exquisite quality in the Silk -----Antique 2 pc. skirt with matching jacket -- in beautiful condition for its age. Silk fabric--and well maintained. Stunning color of light golden bronzes.
French antique Soft silk yet sturdy child's dress. Beautiful condition for its age. White color and can be worn with anything. Delicate in appearance and classy for a young girl.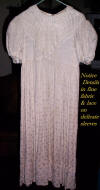 5. Truly quality in this hand made couched French handbag purse. Hand stitched and circa around 1880 having center motif of turquoise round stone then surrounded by hand stitched gold threads on cream wool fabric. Interior having gorgeous color of pink silk lining. Truly something to show off during your evening social events. A rare treasure hard to find. This would also be wonderful if one were to frame it and add to your walls.. or perhaps frame it and add to your favorite display tables.. The hand made workmanship is wonderful to admire. Price: 375.00